De afgelopen twee weken mocht ik dan ook gamen met de DOYOKY Wireless RGB Joycon Controllers for Switch-Black. Een bijzonder setje Joy-Con vervangers die ook nog eens zeer goedkoop zijn.

Unboxing
In de verpakking van de DOYOKY Wireless RGB Joycon Controllers for Switch-Black vinden we niet alleen de twee Joy-Con vervangers, maar ook een tussenstuk zodat je ze als één controller kunt gebruiken. Bij Nintendo moet je die ook nog los lopen. In het doosje vinden we ook nog een USB-C laadkabel en een handleiding.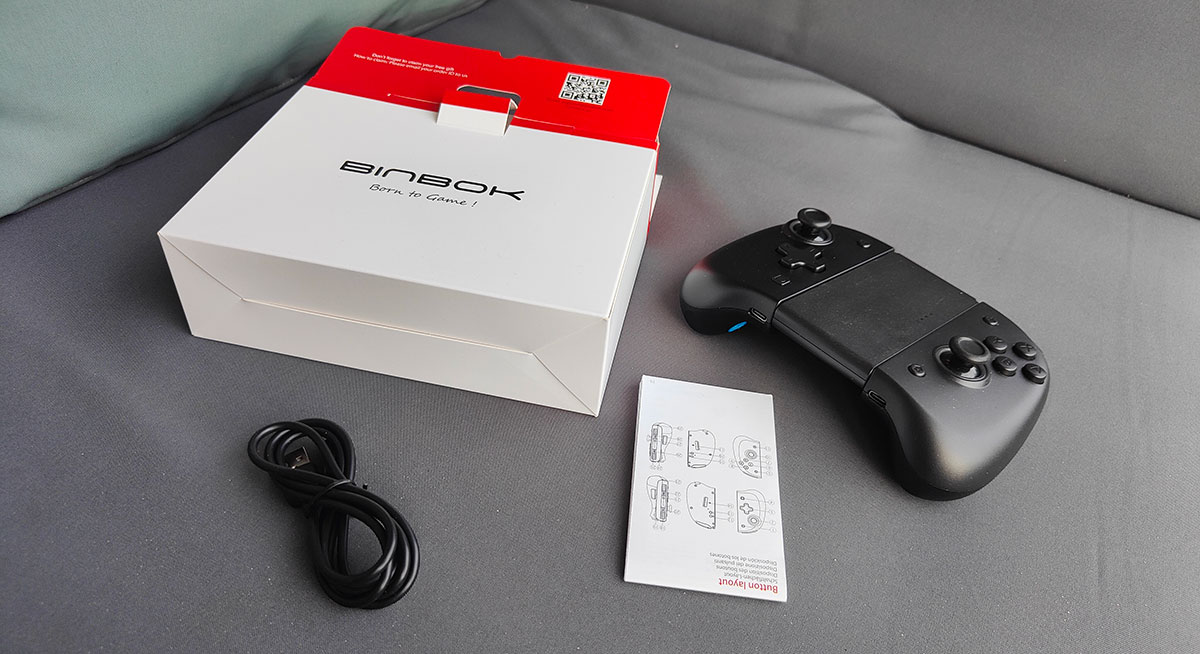 Ontwerp
De DOYOKY Wireless RGB Joycon Controllers for Switch-Black zijn echt ontworpen voor grote handen. Bij mij liggen ze dan ook fijn in de hand terwijl mijn zoontje van negen toch de voorkeur geeft aan de standaard Joy-Con van Nintendo. Het bedrijf heeft echt geprobeerd om ze meet aan te laten voelen als volwaardige controllers die aan de uiteinden van jouw Switch komen te zitten. Daarmee kruipen ze qua look & feel ook wel een beetje naar de pro controller toe.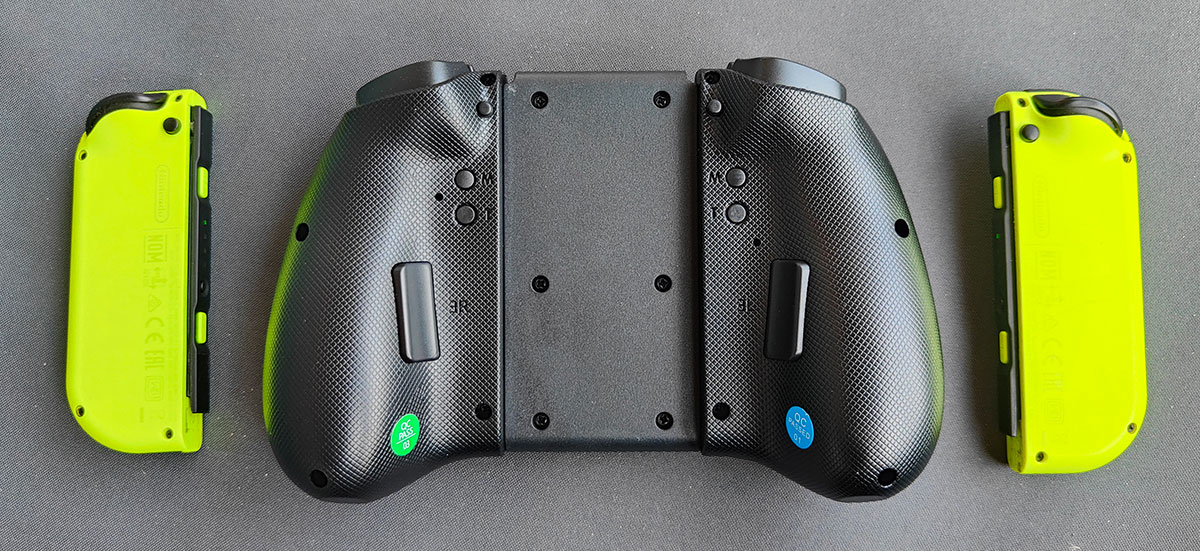 Aan de onderkant is ook wat bijzonders aan de hand. Daar zitten namelijk wat extra knoppen. Zo kun je zelf een turbo knop mappen naar één van de standaard knoppen van de controller. Ook kun je de knoppen gebruiken om de sterkte van de vibratie en de LED ringen rondom de analoge sticks aan te passen.
Net als de originele, hebben ook deze controllers een plastic geleiderail waarmee je ze op de Switch of andere accessoires klikt. Waar Nintendo glide pads gebruikt om de glijbeweging extreem soepel te laten zijn, doen ze dit bij DOYOKY niet. Het voelt iets meer plastic aan. Toch is dit zeker niet erg.
Voor wie heel vroegâh al handheld games speelde, lijkt de Switch met deze controllers er aan misschien ook wat meer op de SEGA Game Gear.
Hoewel de DOYOKY Wireless RGB Joycon Controllers for Switch-Black echt een budgetvriendelijke vervanger is van de Joy-Con is het echt niet zo dat de controller goedkoop aanvoelt. Tenminste, zolang de vibratiemotor niet aanslaat.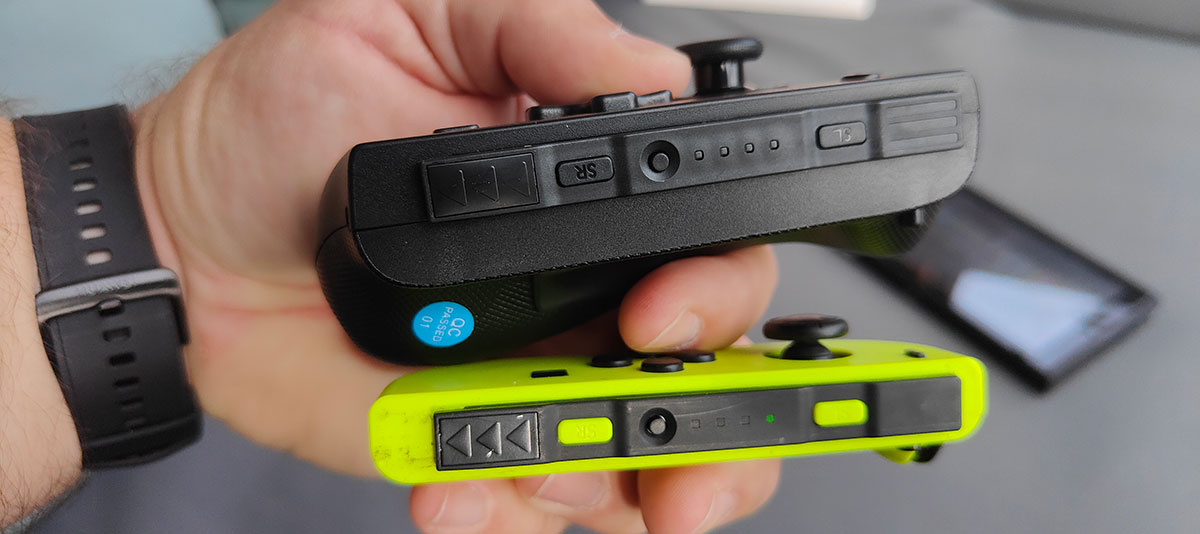 Vibraties
Waar Nintendo dezelfde high-end vibratiemotor gebruikt als Apple voor haar iPhone, hebben ze bij DOYOKY voor een veel eenvoudigere vibratiemotor gekozen. Als Nintendo gamer voel je dit meteen. Het mist aan intensiteit en aan variatie, maar hij is er wel.
Turrrrrrbo!
De optie om turbo knoppen te hebben is best fijn. Met name in fighters scheelt dat heel wat buttonsmashes. Het programmeren ervan heb je ook vlot in de vingers.
Handleiding en software updates
Wat heel tof is, is dat DOYOKY een sterk updatebeleid heeft. Wanneer je op de site registreert, kun je drie verschillende updates met nieuwe firmware voor jouw controller downloaden. Nadeel is wel dat DOYOKY niet kan vertellen welke firmware bij welke controller hoort. Zoals ze zelf zeggen, je moet maar even kijken wat werkt en wat niet. Raar? Zeker. Toch zijn er een hoop merken die minder zorg en aandacht geven aan het up to date houden van hun producten. Dus we zijn er toch blij mee. Zeker op dit prijspunt.

De handleiding zelf is vrijwel net zo bijzonder. Het gros van wat erin staat, klopt niet helemaal. Zo is de instructie voor het instellen van de kleur van de LED verlichting eigenlijk de instructie voor het instellen van de vibratie.
De belangrijkste zaken die jij moet weten, die niet in de handleiding staan
Vibratie intensiteit aanpassen – Druk de T knop in en ga met de analoge stick omlaag of omhoog.
LED ring kleur aanpassen – Druk de T knop in en daarna de analoge stick waarvan je de kleur wilt aanpassen.
De game ervaring met de DOYOKY Wireless RGB Joycon Controllers for Switch-Black
En dan komt het er op neer hoe het is om te gamen. De knoppen van de controller zijn net zo eenvoudig als die van de originele Joy-Con van Nintendo. Qua look & feel en kwa actiesnelheid ervaar ik eigenlijk geen verschil. De analoge sticks hebben iets meer ruimte dan die van Nintendo, maar reageren ook echt op prima snelheid op mijn bewegingen. Het nut van een turbo verschilt per game.

Conlusie DOYOKY Wireless RGB Joycon Controllers for Switch-Black
Voor weinig geld, haal je met de DOYOKY Wireless RGB Joycon Controllers for Switch-Black een prima setje vervangers voor de standaard Joy-Con in huis. Hoewel de originele beter vibreren, is de game ervaring verder vrijwel net zo hoogwaardig als het origineel. Dat het qua handleiding en software updates wat rommelig is, is het enige waarom we deze controllers niet de volle vijf sterren geven.
THE GOOD
Liggen lekker in de grote hand
Knoppen reageren goed
Leuke LED ringen
Turbo knop
Software updates
THE BAD
Handleiding is onduidelijk
Software updates ook
Arjan Olsder beoordeelde namens GadgetGear de met 4 sterren.
(Source: gadgetgear.nl)