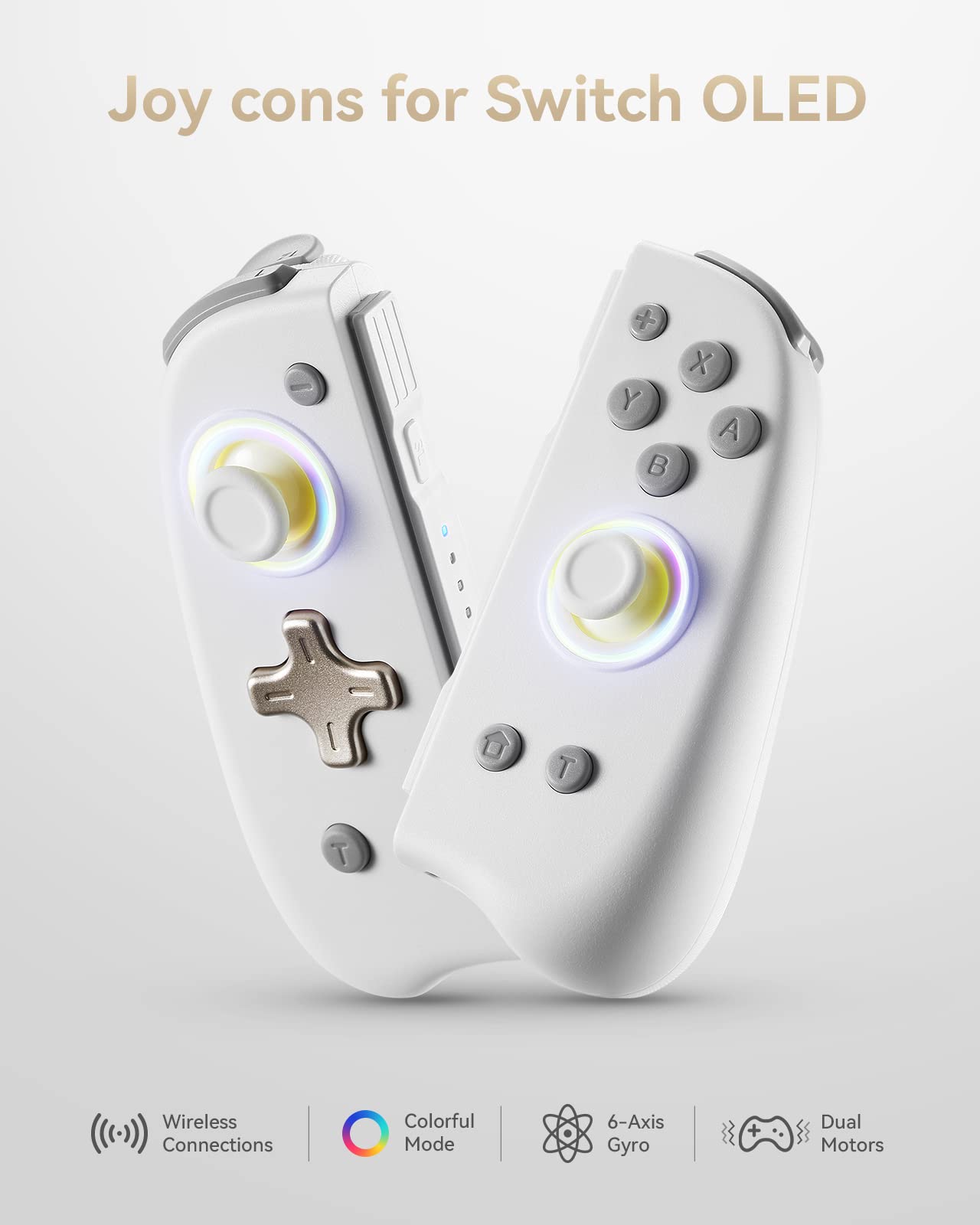 DOYOKY Classic RGB Joycon Slim Edition-White
Place your order before 23:00 pm and receive it within 5 days. (US only)
[Colorful RGB] White, gray and gold appearance on this switch Joycon, extremely eye-catching. Seven color light ring and three lighting modes of monochrome, breath, and rainbow for you to customize your special joypad.

[Dual Vibration & Turbo] No matter what kind of game you play, such as action game, shooting game, fighting game, or racing game, our wireless switch controllers provide you with realistic game feedback. The explosive T key can speed up your continuous shooting and improve the lethality.

[Flexible and Multiple Gameplay] Easily choose from Wired Connection that attaches two Joypads to the switch console to use in handheld mode. Or Stable Wireless Connection that installs two pads on the frame to play as a whole switch controller, or departs one to share with your friends.

[Motion Control & Ergonomics] With the sophisticated 6-axis motion sensors, whether you aim at the rifle or swing, the switch controller can reproduce your action in the most timely and accurate way. The Joycons grip targeted streamlined design makes you feel comfortable.

[Wake-up Function & Screenshot] Press the home button on this joycon for 1-2s, easily back to the game. Just click the screenshot button to catch your hightlight moment in the game, then share it with your friends.
About this item
Technical Specifications
Features
Colorful Joycon
8 colours for you to choose, choose from 3 kind of lighting mode to customize your joypad.
Screenshot function
Easily to your highlight moment in the game, then share it to your friends.
Turbo Function
Supports shooting a few times in a row. Three gears of 5shoots/s, 12shoots/s, 20shoots/s. Make it easier for you to win in shooting and fighting games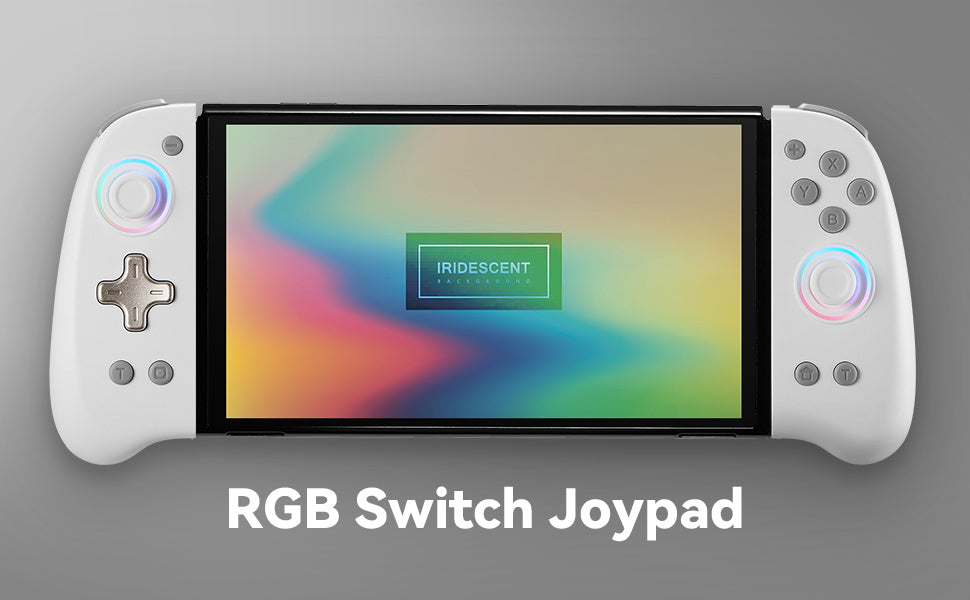 Actually better than expected, almost perfect EXCEPT...
For sure, better than the og joycons, period. The plastic, that I've expected to be cheap, isn't bad. They feel so good in my tiny hands, for sure the best shape my hands can hold while spending many hours without hand strain. The led rings are perfect. No really, I literally have no words for them except beautiful. The only problem that stops me from absolutely throwing 5 stars without any doubt at them is the B button, that takes more strenght to press than the rest of the buttons. It's subtle but sometimes it might not read a press if not pushed slightly more, that's the only issue I've had so far with them, but nothing that stops me from reccomending this joycons over the original ones. They should be licensed by Nintendo asap because they need so much support for better materials and buttons, and with that, they would be perfect. 4 stars and an half.
Pretty Good!
Been playing with it for the past couple hours, i think its a really good joycon combo and i like that i can still break them for playing with another friend. only reason its a 4 and not a 5 star is because it took way too long to ship, and that it doesn't feel very high quality, feels very cheap. I would probably pay the extra cost for faster shipping and high quality plastic.
There is only a minor issue
I love the joycons, I think the white body is great and it feels luxurious, the only thing that I can complain is that the b button is a bit too close to the joystick, but I do not have big hands so It doesn't bother me. All in all, great joycons
Great alternative with some minor problems
Feel:4/5 - this version fits well in medium hands, smaller then the OG but feels amazing in hand
Buttons/Triggers:4/5 - Buttons are very responsive have a nice press but it seems after a couple of months the "A" button has some minor "stick" feel to it, it's still very responsive but I feel like in another couple of months the button might start to fade. Triggers are amazing, the initial press is exactly what I wanted in triggers when it comes to handheld joycons.
D PAD: 3/5 - the D pad is good at best, it can sometimes not register a press, the click isn't the most satisfying. Pressing the D Pad is very unappealing to me feels almost like it's being blocked by something behind it, don't know if maybe it's a defect on mine only but it gets a pass.
Joystick: 4/5 - Joysticks feel great, no drift as this review is being written, very responsive, has a great feel to it.
RGB: 5/5 - not much to say
CON: The white is just a BAD colorway especially for someone who uses the switch in handheld almost everyday. MY MAIN CON IS THE COLOR OF THE JOYSTICK. After two months the sticks have completely oxidized and has a dark yellowish tint due to usage and the mixing of oils/sweat, the fingers release. If I could go back I would hold off, I'm currently looking for joystick caps to try to cover the yellow on the thumb sticks.
Overall with changes to the D-Pad, a bit of tweaking to the ABXY buttons and a darker color way for the joysticks this would be a near perfect controller.