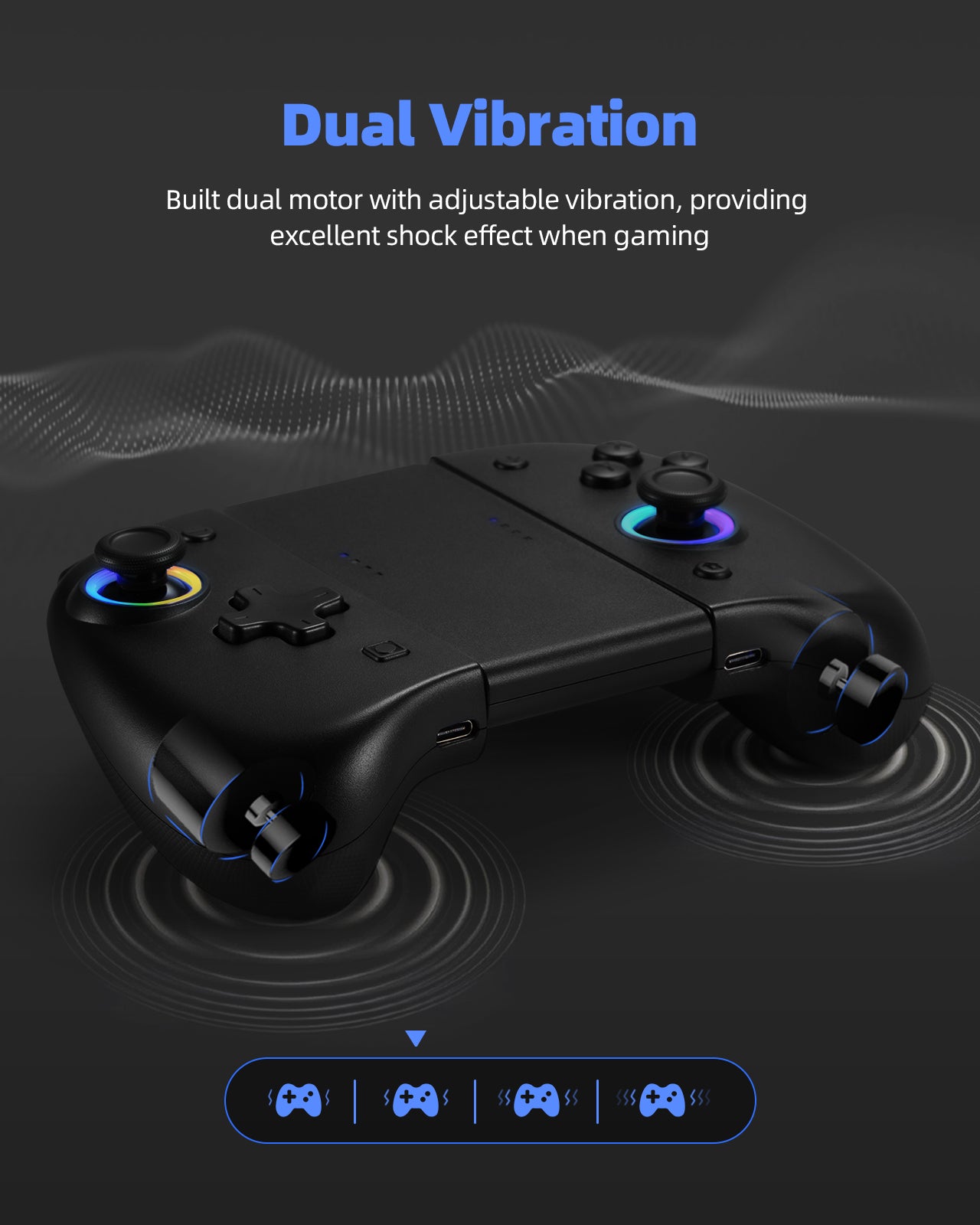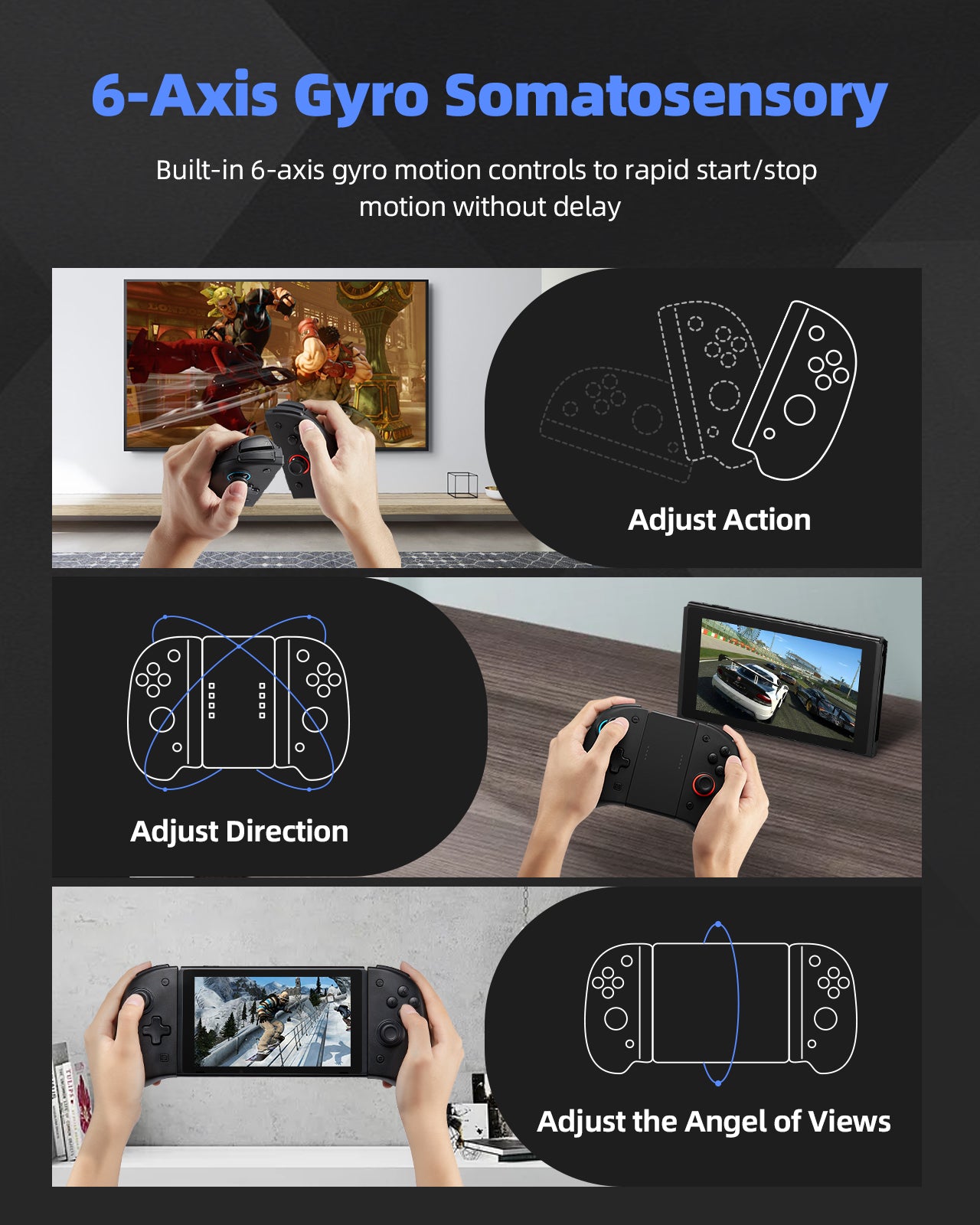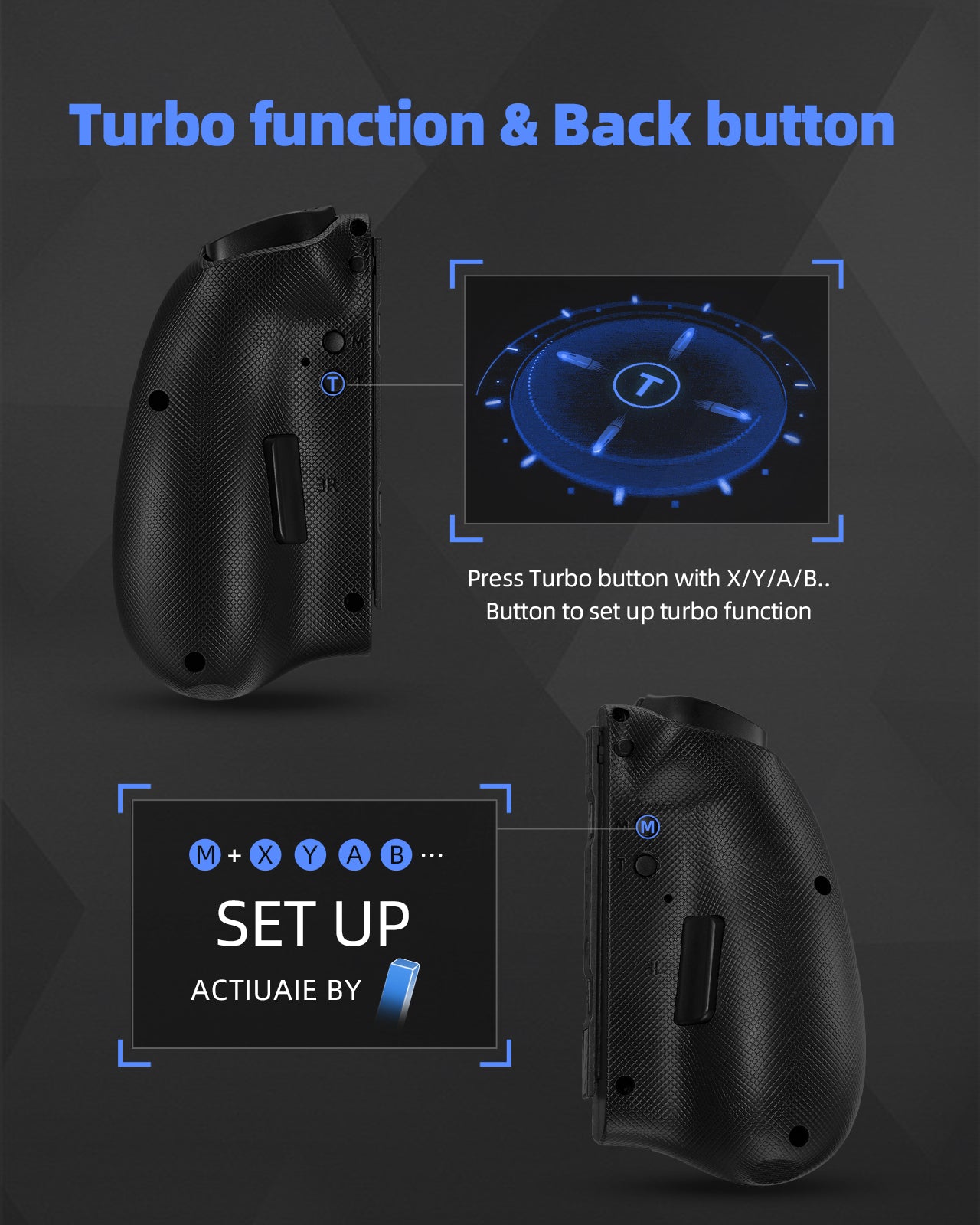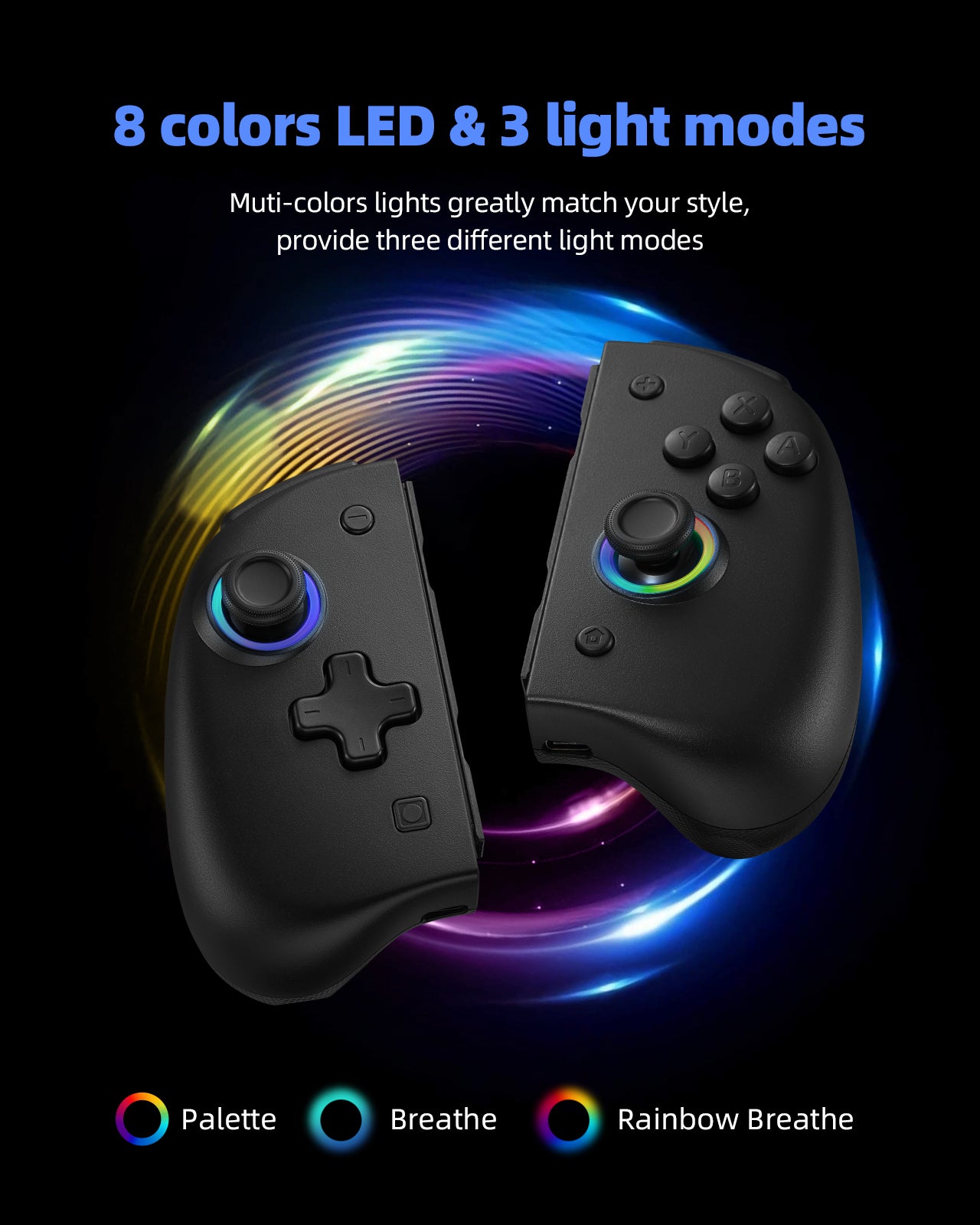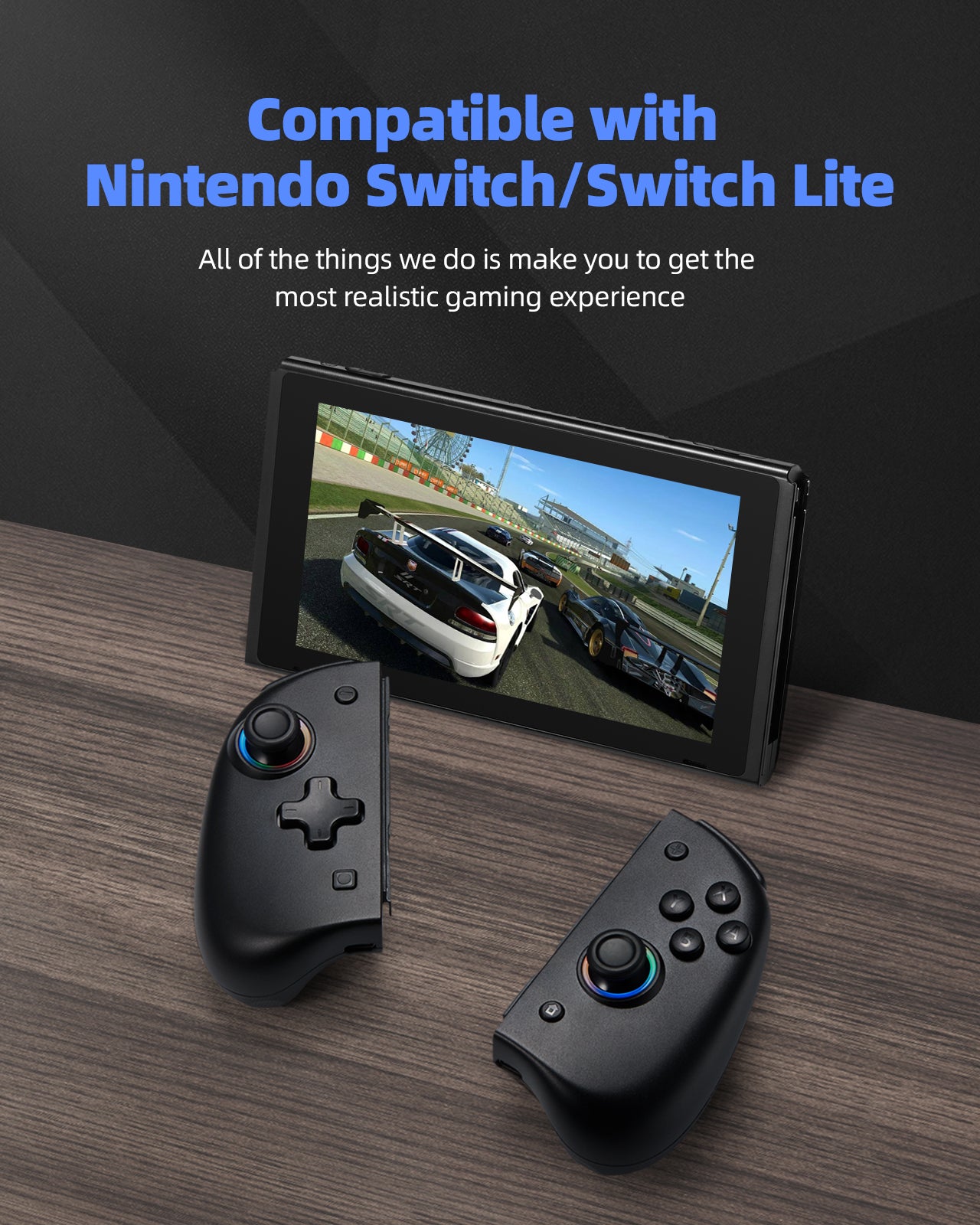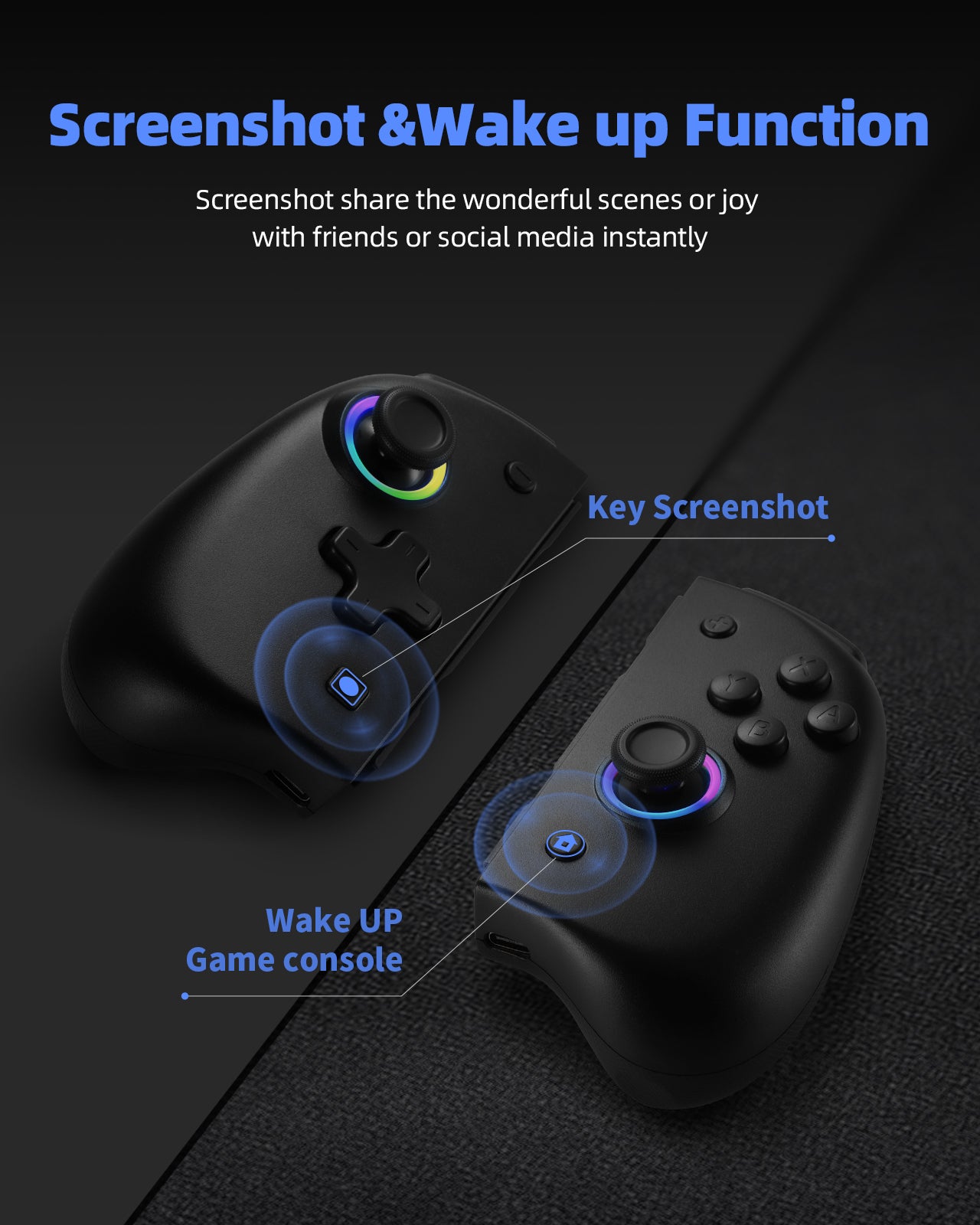 DOYOKY Classic RGB Joycon-Black
Place your order before 23:00 pm and receive it within 5 days. (US only)
[8 colors LED Ring Light & 3 Different Modes]

 

Well-designed Adjustable LED ring light of 8 different colors! This is the COOLEST joycon controller has 7-colors & rainbow LED light, plus 3 different light modes: Single Colour Mode, Breathing Color changing Mode and Rainbow mode on Left and Right Controllers.
[Back Map Button]

 

This wireless controller has back assign button (M) which can map one of button to the rectangle(3L/3R) button during using this joycon. You can set up one of the X/Y/A/B/Z/L…..button to map it on the rectangle button, making it easier to activate hard-to-reach buttons.
[Turbo Function and Precise Motion Controls]

 

Improve games accuracy and precision! This switch Joycon can customize turbo with any button to free players' fingers and adjust the turbo speed to fit different games. Joypad controllers also built-in 6-Axis gyro motion controls to rapid start/stop motion without delay.
[Dual vibration & Game Experience]

 

Enjoy the action feelings! This switch Joycon controller equipped with adjustable dual vibration and give you 4-level precise vibration: 0%/30%/ 50%/75%/ 100%. Making you feel the real game experience and record all wonderful scenes by Screenshot.
[Ergonomic&Non-Slip Design]

 

Ergonomic hand – fit design with Lightweight materials make wired joycon controller game-time comfortable. Bigger button and joysticks avoid pressing other buttons by mistake. The back of joycon is designed with a special anti-skid pattern, which help increases friction and reduces the unpleasant experience caused by hand sweat.
About this item
Technical Specifications
Features
8-color LED Ring Light
Well-designed Adjustable LED ring light of 8 different colors! This is the COOLEST joycon controller that has 7 colors & rainbow LED lights, plus 3 different light modes.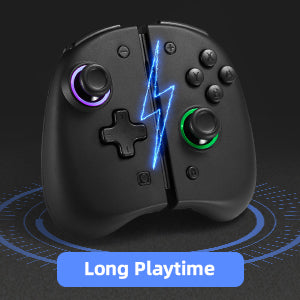 Long Battery life
This switch controller built-in a high-performance 500mAh battery in each controller, 2 hours of charging can support 3-4 hours of playtime, and make sure you Fully enjoy the longer game-time with the controller.
Ergonomic & Non-Slip Design
The curved design used when replacing the Joycon is different from the original controller, and its back is convex, which makes the holding posture more natural and comfortable.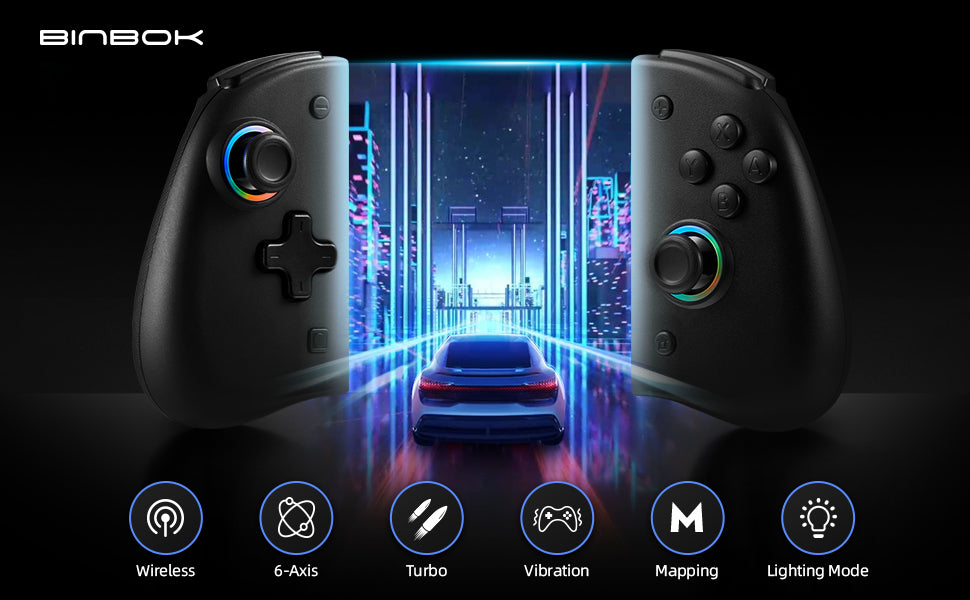 Absolutely love these
These are so much better than what Nintendo has to offer. My main play at the moment is Zelda and I absolutely love them. I'd give them 10 stars if I could
So close to 5
I really enjoy these. I have one issue. They have no grip. They fit nice in the hand, but without grip it almost completely makes them harder to use.
I do use these daily when I'm not on my monitor though. I love that they charge on the switch, the switch registers them as joycons, so you can actually make the back buttons from the right onto the left rear mappable button. The have decent tactile, but not the greatest, but nice. The RGB is cool. Unnecessary but cool. My left one has trouble sliding on the rail and the release button is extremely stiff. With the middle piece to make it a controller sometimes you have to fight them on and not having the click just takes the satisfaction that you get with the original joycons. The downsides are very small and these are great for when you want to play in handheld, and I do recommend them. Also got an upside (to me) but something a lot of people complain about. They are light. Like really light, but when they are on the switch it makes it feel perfect. By themselves they feel somewhat cheap but on the switch they feel like they belong. Also the wiggle you get from the originals is completely gone. These are great.
Good and I love them
Love them but I was playing smash with friends and I broke the LB and recently the thing that connects to the switch broke off so I just trying to find a replacement for the left one
Horrible purchase
I bought the joycons thinking they would be a great purchase since I have the pro controller but much to my surprise they stopped working only 2 weeks and I've tried getting in touch with the company but to no avail their customer service is horrible and they will not respond to email, store chat, or Facebook messages I will not be buying anything else from this company and I do not recommend them to anyone else
Hi! Sorry, our customer service is on vacation for a week, so it may take a few extra days for us to respond to your email. Thanks for your support and understanding.
Giggity
I, Glenn Quagmire, love this invention so much because I can browse through the internet 😏😫