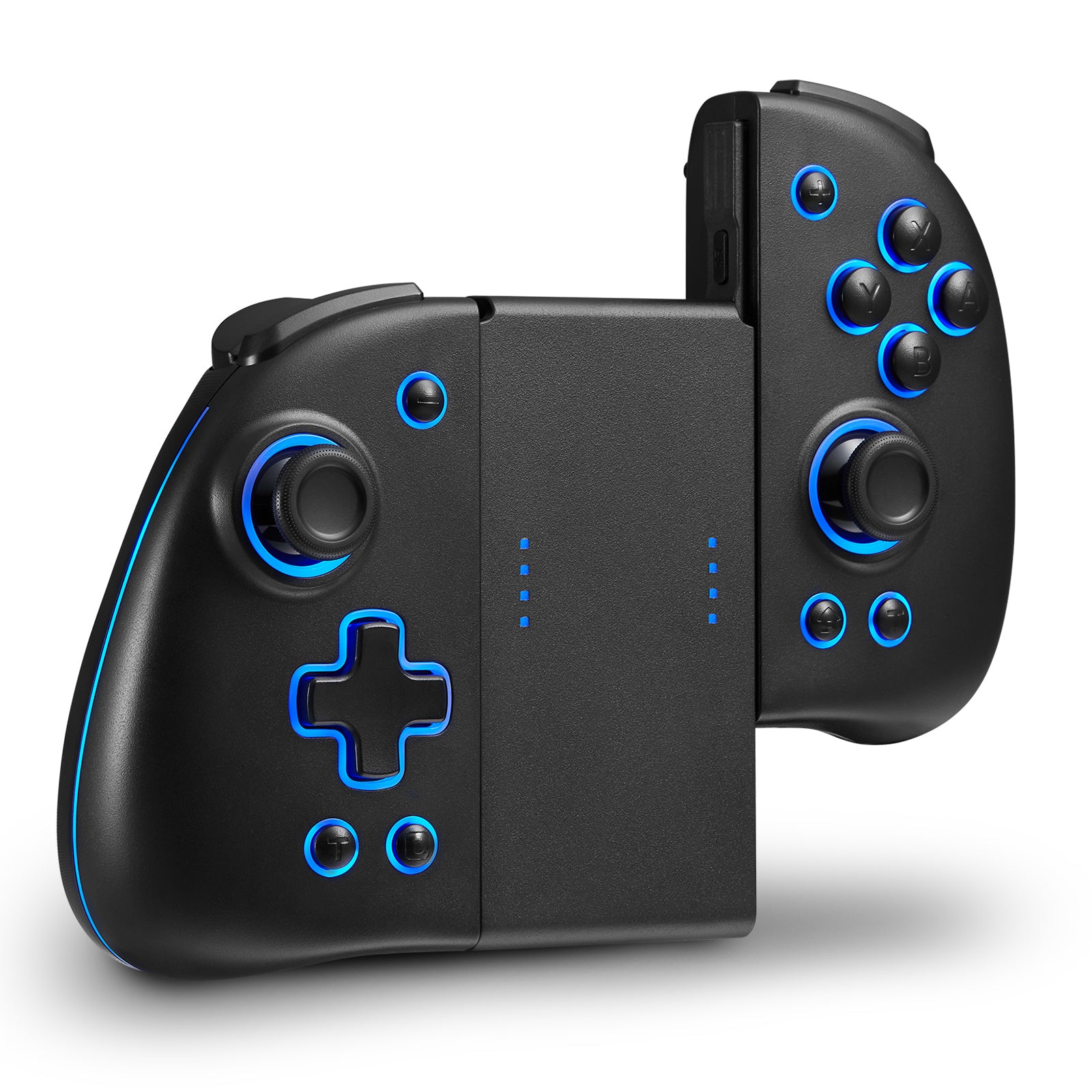 DOYOKY Lumos Game Controller
Ensure your order arrives quickly and efficiently in your hand.
[Upgraded Version] Utilizing JH16 version Hall effect sensor joysticks to prevent controller drifting. Most of the buttons, including the D-Pad and face buttons, have been upgraded for improved durability compared to the previous version.
[7 colors LED Lights & 2 Different Modes] Well-designed Adjustable LED ring light of 7 different colors! Added side light lamps, featuring cool 7-color LED lights, along with 2 different light modes: Single Color Mode and Breathing Color Changing Mode on the Left and Right Controllers.
[Back Map Button] This wireless controller has a back assign button (M) which can map one of the buttons to the rectangle(3L/3R) button during using this joycon. You can set up one of the X/Y/A/B/Z/L….. buttons to map it on the rectangle button, making it easier to activate hard-to-reach buttons.
[Turbo Function and Precise Motion Controls] Improve the game's accuracy and precision! This switch Joycon can customize the turbo with any button to free players' fingers and adjust the turbo speed to fit different games. Joypad controllers also have built-in 6-Axis gyro motion controls to rapid start/stop motion without delay.
[Dual vibration & Game Experience] Enjoy the action feelings! This switch Joycon controller is equipped with adjustable dual vibration and gives you 4-level precise vibration: 0%/30%/ 50%/75%/ 100%. Making you feel the real game experience and recording all the wonderful scenes with Screenshots.
[Ergonomic&Non-Slip Design] Ergonomic hand-fit design with Lightweight materials make the joycon controller game-time comfortable. Bigger buttons and joysticks avoid pressing other buttons by mistake. The back of joycon is designed with a special anti-skid pattern, which helps increases friction and reduces the unpleasant experience caused by hand sweat.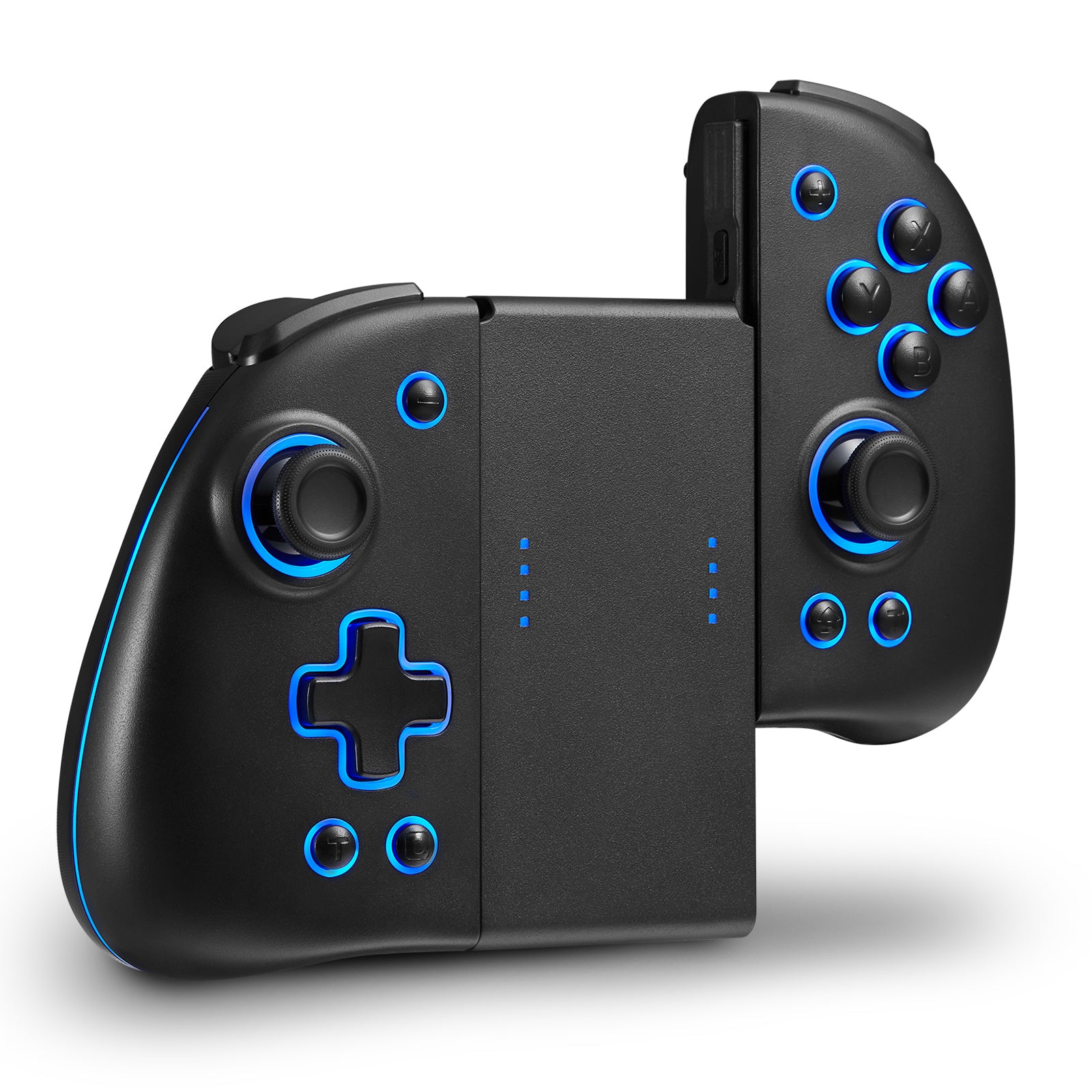 About this item
Technical Specifications
Features
Hall Effect Joystick
Utilizing Hall effect sensor joysticks to prevent controller drifting, enhance your gaming experience.
Added Side Light
In addition to the 7 LED colors on the front, it also includes an innovative side light for an enhanced experience.
6-Axis Gyro
Built-in 6-Axis gyro motion controls, it can rapidly start/stop motion without delay.
Good for a few months
It was perfect at first but eventually the turbo for the d-pad started triggering on its own, making most games unplayable since most games use the d-pad for movement anyway. There was a way to undo it but it's only temporary
Good for a couple of months.
The Bad:
Controller functioned perfectly for the two months I have had it. Then the d-pad's down and left input started to fail. It would not register a normal press, you'd have to press very hard.
The controller itself feels like a cheap plastic, and the shoulder/trigger buttons leave much to be desired.
The Good:
Hall effect sticks (No/very little chance of ever getting stick drift), turbo (niche uses but nice to have), Rgb (I could do without but it's preference), comfortable grip for medium to large hands. Can be wireless and has gyro controls.
Overall, I'd personally like a stripped down version of this controller without RGB, Turbo and with d-pad buttons from the original switch joycons instead of a pad. The d-pad seems to be the first point of failure, whereas buttons last longer. It could also stand to be made with better feeling materials.
Amazing Comfortable Joycons
Bought these as a replacement to my TOTK Switch OLED joycons that started causing me issues a month into owning the Switch. Do not regret it at all, these are absolutely amazing joycons. So comfortable and ergonomic I was starting to develop hand cramps with the switch joycons. The only thing I'd say is that the company would benefit from having some skinned variants of this controller. An Animal Crossing, Pokemon and Zelda variant of this controller would be incredible.