BINBOK EVO Game Controller-Crack Gray
Ensure your order arrives quickly and efficiently in your hand.
[ Upgraded Lighting Effects and Comfortable Surface] BINBOKPALY upgraded the surface material and crackle effect of the wireless switch pro controller, providing a more comfortable grip. Plus, our Switch Controller also features an upgraded ambient light with four different lighting effects to choose from.

[ Back Programmable Button] The BINBOKPLAY Switch Pro Controller comes with two additional buttons on the back that can be mapped for a single button or macro functions. The M1/M2 programmable buttons can map the basic function buttons A/B/X/Y/L/R/ZL/ZR/L3/R3/D-pad, and you can freely combine these buttons with meeting your various needs in different games. This allows for more efficient and smoother operations during gameplay.

[ 6-axis gyro Motion Sensor] With 6-axis gyro somatosensory and motion control functions, our wireless switch pro controllers offer precise speed, position, and control for an immersive gaming experience.

[ Dual Vibration Motors] The Switch Pro controller grips on both sides feature vibration motors, with three levels of intensity (0/50%/100%) that can be adjusted to your liking. This allows you to better feel the impact of feedback in the game.

[ Adjustable Turbo Function] The turbo function supports setting A/B/X/Y/L/R/ZL/ZR buttons, and you can also adjust the turbo speed, with three levels available: 5/12/20 times per second. This feature helps you take action faster and enjoy the game effortlessly.

[ ALPS Joystick] Experience gaming at its finest with the ALPS joystick imported from Japan. Switch Pro Controller is designed with an ALPS joystick rotation lifespan of over 2,000,000 rotations. It offers a delicate touch, excellent rebound, and accurate data transmission for pinpoint accuracy during gameplay.

[ No Dead Zone Mode] The BINBOKPLAY Switch Controllers features a no-dead zone mode that responds instantly to even the slightest joystick movement. Perfect for FPS games that require precise aiming and character movement, it also eliminates the problem of cross-adsorption.
About this item
Technical Specifications
Features
Upgraded lighting effects and cracked surfaces
BINBOK Evo controller has upgraded the surface material and crackle effect, making it feel more comfortable. It has also equipped with the upgraded version of the ambient light, and you can choose from four lighting effects.
ALPS Joystick
The ALPS joystick imported from Japan is used, and will stay tough through more than 2,000,000 rotations. The ALPS joystick has a delicate feel, good rebound and accurate data transmission, and can achieve more accurate pointing during gaming.
No Dead Zone Mode
After turning on the no-dead zone mode, the controller can respond after a slight flick of the joystick, which is used for FPS precise aiming and precise character movement, and solves the problem of cross adsorption.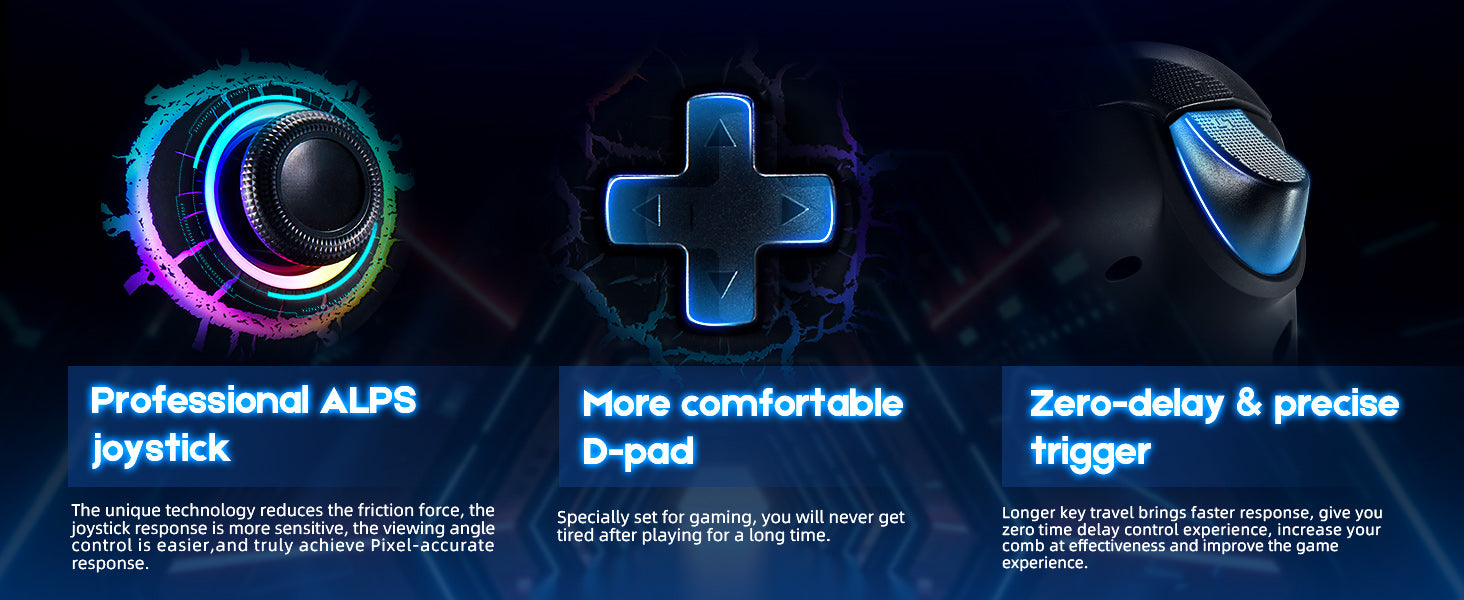 Buttons and joysticks
The unique technology reduces the friction force, the joystick response is more sensitive, the viewing angle control is easier and it truly achieves Pixel-accurate response.
Turbo& Vibration
According to the game scene, realize a wealth of vibration options.
Abandon repetitive and boring operations and relieve the pressure of player operations.
Back Programmable Button
Use M1, M2, M button to program your own operation combo
Unique Surface Coating
The handle surface material and crack effect have been upgraded, making it more comfortable to grip.