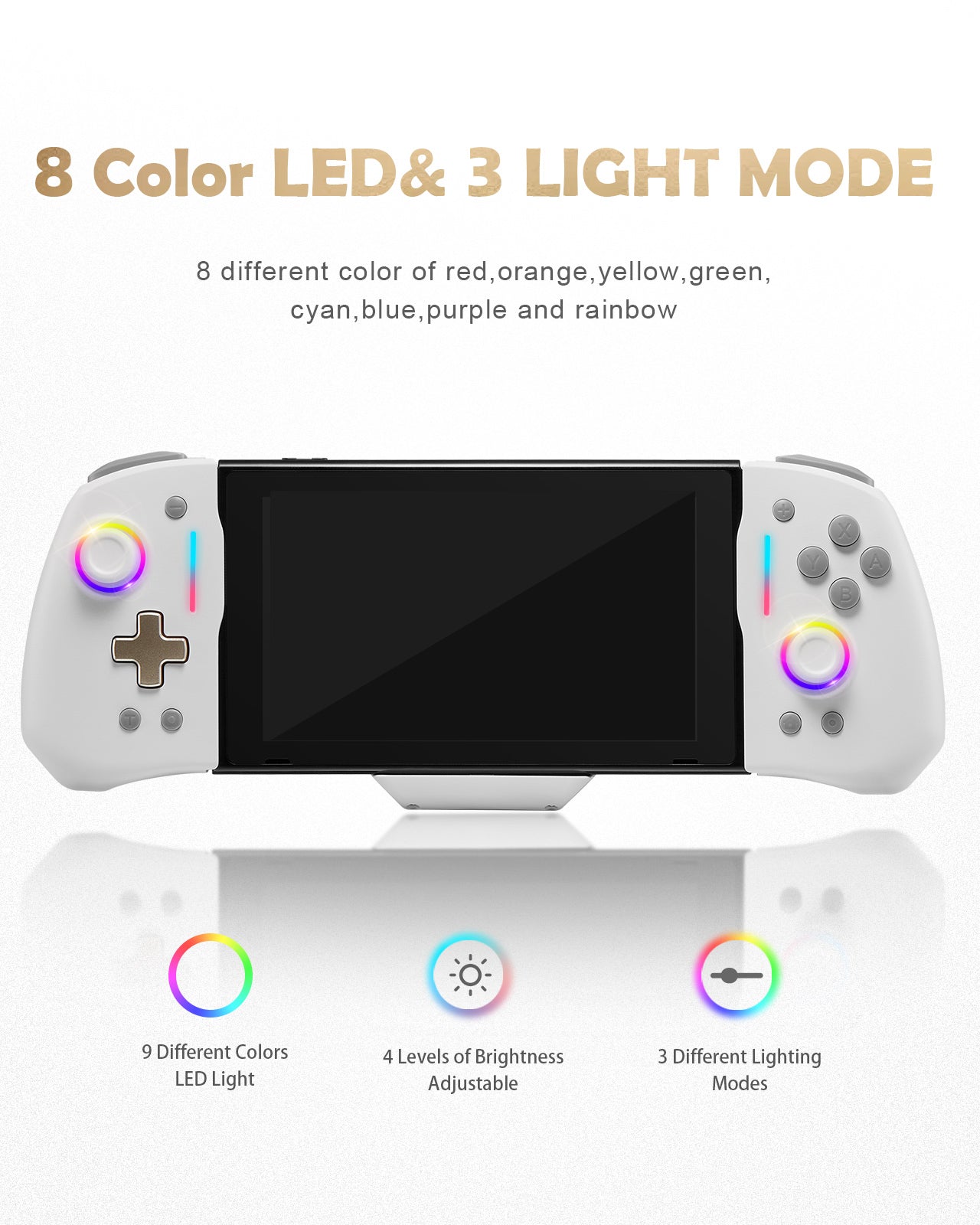 DOYOKY Wired Game Controller-White
Ensure your order arrives quickly and efficiently in your hand.
[Comfortable Grip] The Joycon grip targets streamlined and Ergonomics design makes you feel full and comfortable. Wired Connection to the switch console in handheld mode. No discomfort after playing for a long time.

[8 colors LED Light & Different Modes] Well-designed Adjustable LED light of 8 colors! This is the COOLEST controller that has 7 colors & rainbow LED lights, plus different light modes. You can change the style you like with the light button!

[Double Shock & 6-Axis Gyro] Have 4 levels of adjustable dual vibration motors that provide you excellent vibration feedback to enhance the game immersion. Built-in 6-axis gyro, somatosensory tracking flexible movement and direction change, speed, and precision, you can achieve highly accurate positioning and no input lag time.

[Back Map Button] This wired controller has a back assign button (M) which can map one of the buttons to the rectangle button during using this joycon. You can set up one of the X/Y/A/B/Z/L..... buttons to map it on the rectangle button, making it easier to activate hard-to-reach buttons.

[Ergonomic&Non-Slip Design] Ergonomic hand-fit design with Lightweight materials make the wired joycon controller game-time comfortable. Bigger buttons and joysticks avoid pressing other buttons by mistake. The back of joycon is designed with a particular anti-skid pattern, which helps increases friction and reduces the unpleasant experience caused by hand sweat.
About this item
Technical Specifications
Features
Turbo Function
Built-in Turbo function makes this switch joycon play arcade or action games easier. One-click to do repetitive actions help extends the service life of the buttons by reducing the frequency of pressing buttons.
Back Map Button
M button can set up and map X/Y/A/B/R .....to the square button. Players can easily press the hard-to-reach button via 3L/3R., which will simplify buttons operation and increase the chance to win the games.
6-Axis Somatosensory
Bulit-in one accelerometer and one gyroscope in each controller, improving games accuracy and precision and motion controls to rapid start/stop motion without delay.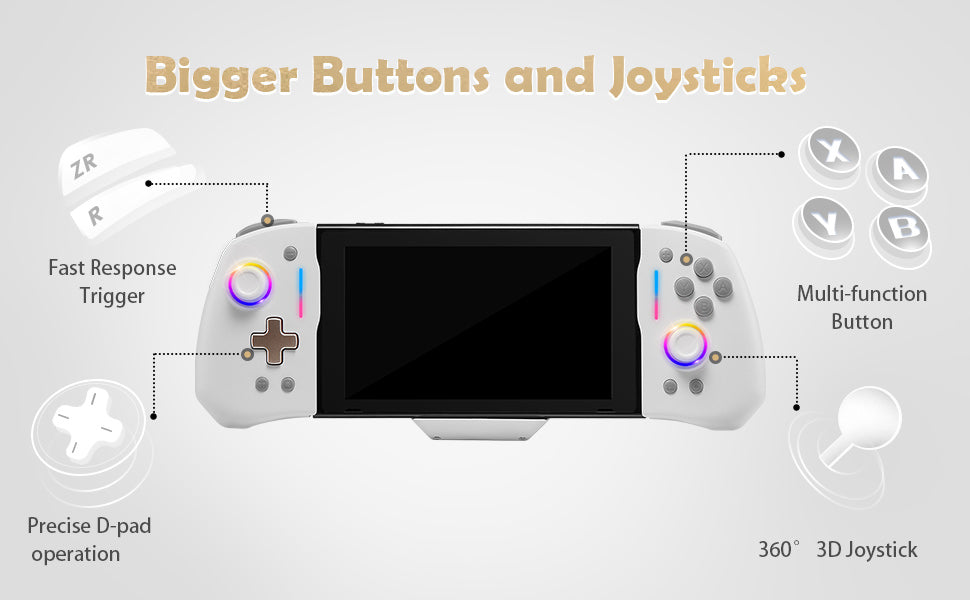 Great Controller with major flaws
The controller itself is fantastic. The controls feel great and the thumb sticks work very well. Unfortunately that's where it's stops being good.
The usb c port is slightly off in measurement. You will find yourself struggling trying to plug the switch into the controller unless you bend it slightly to get it in.
You can't change out physical cartridges. Such an obvious overglaring flaw. The little plastic tab you remove from the switch to access your game can't be removed. So the only solution is to remove the console from the controller then switch the game. Then plug the controller after which I already said before is a real pain.
The most infuriating part is connecting the controller through the software. The switch tells you to press L+R in order to connect it and it won't do it. I find myself just bashing random buttons until it finally connects which takes a very long time for some reason, and I have to do it EVERY TIME IT GOES TO SLEEP.